Old Foundation Problems in Colorado?
We can Restore Your Stone or Brick Foundation and Keep it Strong!
If you have a stone or brick foundation, you're maintaining a piece of history through your house investment. Foundations of this type generally have the original stone or brick facing on the outside of the foundation, but they often have a plaster coating on the inside as a method of waterproofing. In many cases, these foundations would begin to shift and crack 30-50 years after being built, at which point a second foundation layer may have been constructed.
Because these older stone and brick foundations were many times not well-maintained, the following problems are common:
Loose Stones and Bricks
Water Leakage
Mortar Grinding Into Sand
Bulging Walls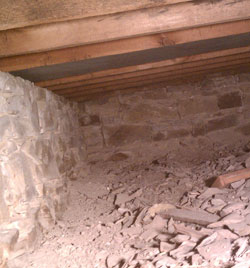 An older foundation, especially a stone one, should be checked annually to catch potential issues before they become a serious problem. Using a piece of chalk, draw a line across a crack and record the width of the crack with a date. This will help you see if the cracks are shifting unevenly or widening.
Don't wait for your foundation issue to get worse! If you live in the Colorado area and would like a no-obligation consultation and quote on a foundation issue, Peak Structural can help! Call or e-mail us today to get started!
We serve Arvada, Littleton, Aurora, Denver, Westminster, Englewood, Brighton, Boulder, Broomfield, Golden, Commerce City, Thornton, Wheat Ridge, Evergreen, Fort Morgan, Morrison, Windsor, as well as many areas nearby.