Sinking Slabs & Floors in Greater Denver
Sagging Floors? We have solutions for crawl spaces.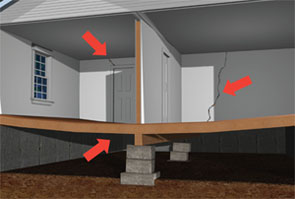 We can solve a common problem of sagging floors in Colorado. Wood or steel beams that carry the load of your home can sag causing drywall cracks, sloping floors, doors or windows that won't open properly and other structural issues.
Doors that stick or are hard to open
Floors sloping or unlevel.
Interior plaster walls cracking
Nail pops in ceilings and walls
Window and door trim developing spaces
Uneven floors
Sinking or bowing floor joists
This is typically an issue when the current support system is spaced too far apart to be effective, or soil settlement has allowed existing supports to become compromised. By installing a series of stabilizers that are adjustable, the structure can be lifted and supported evenly, reducing any damage to the structure and restoring a more solid feel underfoot.
Sinking Slabs? We have the solution!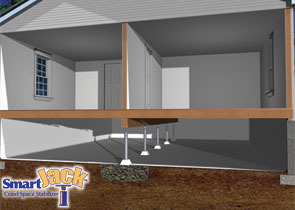 Concrete slab sinking or cracked up? Uneven and settled concrete floors not only decrease property values but create safety hazards. What you need is a permanent solution to re-leveling your floor.

Peak Structural uses engineered methods to solve those problems in the most cost-effective solution that is permanent.

You can expect your concrete slab to be level and stabilized without the cost or mess of replacement.
The system can be installed in limited areas, year-round, in just a few days.
Contact Peak Structural, INC. today Get a Quote from one of our certified trained professionals in Littleton, Aurora, Denver, Arvada, Golden, Brighton, Broomfield, Boulder, Englewood, Westminster, Commerce City, Thornton, Wheat Ridge, Evergreen, Fort Morgan, Morrison, Windsor and the surrounding Colorado area.