Colorado Front Range Soil Map
Causes of Foundation Problems in Denver, Arvada, Littleton, Aurora
Colorado is classified as an alpine desert, which means that we're a semi-arid state, experiencing seasonal and long-term fluctuations in rainfall, snow-melt, and groundwater. We also have some unique soil conditions as explained in this page. All of these factors put additional pressure on your foundation. This map shows the soil make-up in your Front Range area. Match the color in the text to the map in order to see what your soil type is made of.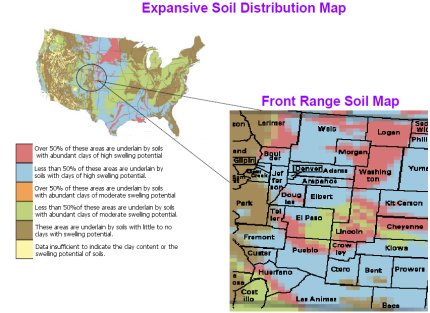 This part of the country is also known for having hydro-compactable soil.
Some ways to tell if you have hydro-compactable soil are: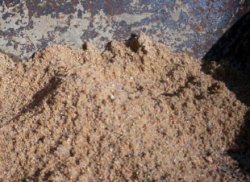 Your lawn absorbs water quickly but does not appear green and lush
Your soil is loose and blows out of your hand when you puff on it
You notice "rain divots" in your exposed soil (raindrop shaped dimples)
Soil forms a slight crust once dry that you can crumble with your fingers
You can feel individual particles when rubbing soil between your hands
You have less than 30% clay content and less than 10% water content in your garden
Concentric or curving cracks in concrete surfaces
Soil displacement occurs when you step on the soil
These indicators can help you to catch potential soil issues before they become a serious problem, allowing for cheaper, faster remediation.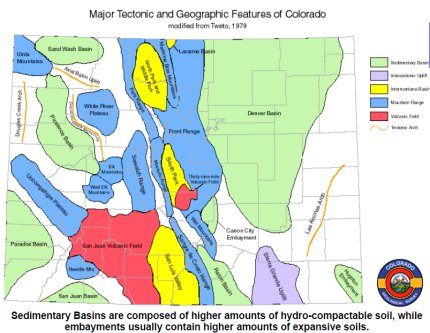 Peak Structural, INC. offers professional solutions from experienced contractors to soil problems in the Littleton, Aurora, Denver, Arvada, Golden, Westminster, Brighton, Broomfield, Boulder, Englewood, Commerce City, Thornton, Wheat Ridge, Evergreen, Fort Morgan, Morrison, Windsor area.