Foundation Settlement in Littleton, Aurora, Denver, Arvada?
We Can Help You Stabilize Your Foundation!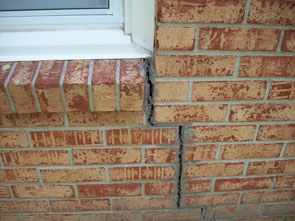 Are cracks like these all too familiar on your home's foundation? This kind of foundation damage is just one way that your foundation may be trying to tell you that there's an issue at hand. But no matter what signs your home is showing, foundation settlement is a serious problem that can lead to long-term problems in your home.
Signs of a Potential Structural Problem

Tilting Chimneys
Jamming Doors
Sticking Windows

Cracks in Floors
Gaps Between the Staircase and Wall
Foundation Wall Cracks (Especially Horizontal Cracks)
The signs of a shifting foundation are not difficult to spot if you know what to look for. Cracks in foundation walls or in upstairs plaster or drywall are telltale signs of trouble. Terrace-shaped cracks in brick or block mortar are always indications that your foundation is shifting. Doors or windows that do not open or close properly, masonry chimney structures pulling away from the rest of the building, and visibly uneven, sloped floors are all clear indicators.

Peak Structural offers the complete scope of foundation repair and settlement products that will fix or repair any foundation settlement issue. Our proven foundation solutions for Colorado homeowners are cost-effective and are made of the finest materials in the world. Why let problems continue to cause your home and property further damage-- damage cost you more money in repairs and dramatically lowers the value of your property?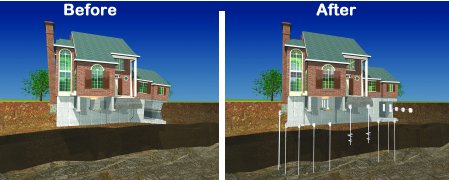 Peak Structural is here for you! Throughout the Colorado Springs area, including Littleton, Aurora, Denver, Arvada, Golden, Westminster, Brighton, Broomfield, Boulder, Englewood, Commerce City, Thornton, Wheat Ridge, Evergreen, Fort Morgan, Morrison, Windsor, and beyond, our structural professionals are available to perform foundation evaluations at no obligation to you. Many of our patented repair processes enable us to provide transferable, written warranties to our customers along with the peace of mind that comes with knowing the problem is fixed for good.
Foundation problems, foundation cracks, bulging and bowing wall problems in Denver, Colorado Springs and the surrounding areas can be fixed with the permanent foundation repair solutions from Peak Structural.

"The FOUNDATION & CRAWL SPACE Experts"