Examining Your Foundation Wall Crack
If You Find a Crack in Your Foundation, Follow These two Steps
1. Monitor the Foundation Wall Crack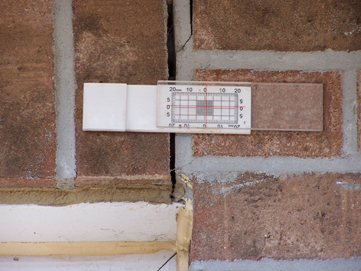 In many cases, the foundation wall crack has been there for quite some time and hasn't happened overnight.
However, it's important to treat each foundation crack you find as a potentially serious problem. Your first step should always to be to consult a professional for an inspection.
Monitor any cracks you find regularly. If you suspect that the crack is moving, spreading, or widening, then this is a strong indication that you have a problem.
In this case, your basement or crawl space could be experiencing a foundation settlement issue, which will lead to increased damage to the home over time.
Keep an eye on the crack by marking the ends of the crack with a pencil. Then, draw several straight "alignment" marks along the width crack, recording the date next to every mark.
Signs That Your Foundation Crack May Not Be Serious:
The crack is 1/8th inch or less
The crack is nearly vertical
There is no later separation
The crack is not very deep
There is no moisture present
If you find that the ends of the lines don't meet along the crack, then this may indicate the the crack is not shifting evenly, and a professional should be contacted. A professional should also be called in if you have a tapered wall crack-- one that is larger on one end than the other.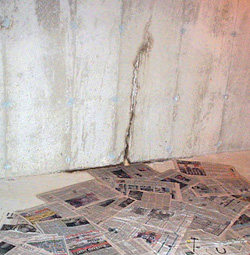 2. Keep an Eye out for Water Leakage
Foundation wall cracks can sometimes let in water, as groundwater invades from around your foundation.
This can be extremely frustrating and inconvenient for homeowners, leading many of them to try to plug the crack with epoxy injection.
When epoxy hardens, it forms a strong bond in the concrete, hardening into a rigid seal.
However, foundation walls shift and expand with moisture levels and temperature. When the wall moves, the epoxy cannot.
In the end, one of two things will happen, the epoxy breaks loose or a new crack forms in the wall.
Leaking foundation wall cracks do not necessarily mean that a more serious foundation problem is present. Some leaking wall cracks are not due to a structural issue at all. However, it's certainly worth having a contractor inspect and repair these wall cracks. Most home wall crack repair methods-- such as epoxy, urethane, hydraulic cement, and caulk-- are not effective ways to eliminate this water.
Repair or Rebuild Your Foundation?
If you do have a foundation problem in your home, it's very important that you repair it as soon as possible. If a foundation issue is identified early enough, it should be possible to repair the problem without digging out the foundation and rebuilding the structure. This is a less costly, less invasive, and less time-consuming repair, so it's important to catch the problem as soon as you can!
Additionally, repairing the foundation without rebuilding it will address the problem that caused the foundation issue. Rebuilding the foundation replaces the failed foundation wall with a new one - one that faces the same conditions that destroyed the original wall.
Would you like to learn more about foundation cracks? Call us for a foundation repair quote in the Arvada, Littleton, Aurora, Denver, Westminster, Englewood, Brighton, Boulder, Broomfield, Golden, Wheat Ridge, Thornton, Commerce City, Windsor, Fort Morgan, Morrison, Evergreen area, and we can help you identify whether your cracks are a problem or not!