Commercial Helical Anchors / Tiebacks in Colorado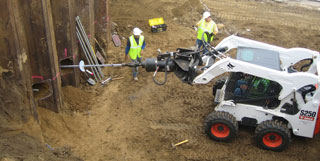 Like helical piles, helical anchors can be installed with hand-held equipment, mini-excavators, skid steers, backhoes, trackhoes, or crane-supported rigs-- so they install in almost any application.
Peak Structural is a certified foundation stabilization and repair contractor company serving Colorado. We provide foundation structural support solutions for all types of new construction applications, including commercial, industrial, residential, government, and municipality projects. We are the exclusive local Foundation Supportworks Contractor for the region, providing quality foundation repair products and implementing best industry practices as members of the network.
Our service area spreads across the states of CO, including Arvada, Littleton, Aurora, Denver, Westminster, Englewood, Brighton, Boulder, Broomfield, Golden, Wheat Ridge, Thornton, Commerce City, Windsor, Fort Morgan, Morrison, Evergreen, and nearby.
For product availability, pricing, and technical information contact them by phone or e-mail today.
Helical Anchor/Tieback Installation
Helical Anchors (also referred to as tiebacks) provide lateral stability to foundation walls and retaining walls with unbalanced earth pressures. They can be installed in almost any weather, in areas of limited access, and through a variety of methods.
This versatility, along with the ability to immediately load and test the anchors, make helicals a convenient and economical solution for a wide variety of projects.
Helical Anchors and Tieback Advantages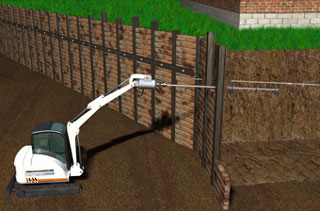 If you are interested in exploring helical anchors and tiebacks as an option for your new construction, contact Peak Structural for product availability, pricing, or technical information.