Commercial Helical Piles
Like helical anchors/tiebacks, helical piles can be installed with handheld equipment, mini-excavators, skid steers, backhoes, or trackhoes, so the installation equipment can be sized for the project.
Peak Structural is a certified Foundation Supportworks (FSI) installer, providing galvanized steel helical piles for new construction applications of all types.
We serve all of Colorado, including Arvada, Littleton, Aurora, Denver, Westminster, Englewood, Brighton, Boulder, Broomfield, Golden, Wheat Ridge, Thornton, Commerce City, Windsor, Fort Morgan, Morrison, Evergreen and surrounding areas.
For product availability, pricing, and technical information contact them by phone or e-mail today.
Helical Pile Systems Installation
Helical Pile Systems are an extremely versatile deep foundation alternative for new construction applications. Installed within grade beams support heavy column and wall loads, they're an excellent way to provide support to commercial and industrial structures.
Helical piles are capable of permanently stabilizing settling or sinking foundations. During installation, the piles are mechanically advanced ("screwed") into the ground until they reach appropriate depths. Heavy duty L-shaped steel foundation brackets are then connected to the tops of the helical piles and installed against the footing. The weight of the existing structure can then be carefully transferred from unstable soils, through the piles, to competent soil or bedrock.
Helical Pile Advantages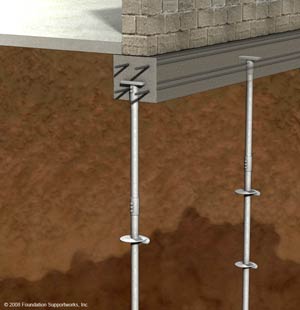 Helical pile systems offer the following new construction advantages:
Peak Structural of Colorado is available for helical pile installations for all new construction applications, including commercial, industrial, government, municipality, and residential.
We serve Littleton, Aurora, Denver, Arvada, Westminster, Englewood, Brighton, Boulder, Broomfield, Golden, Commerce City, Thornton, Wheat Ridge, Evergreen, Fort Morgan, Morrison, Windsor and all areas nearby.

Contact us today for product availability, pricing, bidding, and technical information.