Replacing Buckling Foundation Walls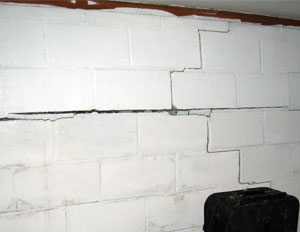 By the time you first notice bowing or buckling in your foundation walls, it's likely that the problem has been present for a long time. Bowing foundations are often caused by a force called hydrostatic pressure.
Hydrostatic pressure occurs when water presses against your basement walls with more force than the walls can withstand, causing them to move inwards.
Other forces, such as expansive clays and frost, are also common causes for soil expansion that can lead to foundation wall fatigue and damage.
Traditionally, Colorado homeowners have had few choices for repairing foundation walls, with none of them being entirely satisfactory.
Installing steel I-beams vertically against the bowing wall is one of the oldest repair methods, but it takes up valuable basement space, places additional stress on existing lumber framing, and does not provide a means for straightening the bowed wall.
More recently, carbon fiber technology has become available and provides some space saving advantages, but is not appropriate for older stone foundations, and still does not offer a means of straightening a damaged wall. Excavating around the wall and building a new basement wall is a possibility, but it is terribly expensive, time-consuming, and destructive to landscaping.
Peak Structural utilizes proven engineering methods to secure and stabilize deteriorating basement walls for Colorado homeowners. What's more, the system works on any kind of basement wall - concrete block, clay block, poured concrete, timber, or stone.
Rebuilding a Foundation Wall
"The condition will not stabilize. It's a question of how much time remains."
-Chief Appraiser, U.S. Department of Housing and Urban Development
Horizontal cracks, wall shear, buckling, and bowing of a foundation wall with severe structural damage will only get worse as time progresses.
In unusual cases, the only way to repair this problem is to completely remove and rebuild a home foundation.
The process begins with your yard. Before replacing the foundation, the former foundation must be dug out and removed.
All landscaping around the foundation, such as walkways, steps, gardens, foliage, and other landscaping along the foundation will need to be taken up, and the soil will be heaped in mounds around the house. Temporary supports will keep your house raised while the foundation walls are rebuilt. When the work is finally completed, the landscaping and dirt can be returned, and a year later, the soil will need to be regraded.
Reinforcing Foundation Walls
Rebuilding a foundation wall is expensive, invasive, time-consuming, and disruptive to your home. Additionally, foundation replacement merely replaces the damaged foundation with another one- which in turn, can fail over time. Replacing a foundation wall with a new one should only be done when it's deemed that repair is not a good option.
If you'd like help replacing a buckling foundation, Peak Structural would like to help. We can offer foundation repair quotes throughout the greater Denver, Arvada, Littleton, Aurora, Westminster, Englewood, Brighton, Boulder, Broomfield, Golden, Thornton, Commerce City, Windsor, Evergreen, Wheat Ridge, Fort Morgan, Morrison area. Call or e-mail us today!