Cracks in Foundation Walls - Are They Serious?
What Kind of Crack do You Have in Your Foundation Walls?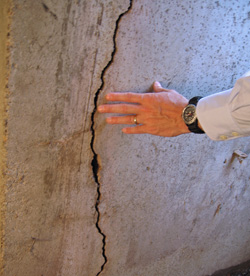 Common Wall Crack Locations:
Wall Corners
Window Frame Corners
Pipe/Wire Penetrations
Long Spans of Wall
Concrete Cold Joints
Along Tie Rods
The most frequent question that we get asked at home shows, on the phone, or over the internet is "My foundation is cracking! Should I be concerned?"
Naturally, it's hard to give an answer because cracks need to be checked out physically by a professional foundation repair expert.
That answer is not very helpful for the most part, so we at Peak Structural, Inc. have devoted a lot of time to researching this question and developing some guidelines to help out homeowners with early detection.
When it comes to concrete foundations, there are two big truths:
1. Concrete foundations are porous and wick moisture
2. Concrete cracks because it's a hard, solid substance surrounded by changing soils
Cracking in concrete is a natural phenomenon because it is strong in compression but very weak in tension.
When a concrete foundation wall encounters stress forces from outside elements, the portions of the wall that are experiencing tension will crack
Forces that can act against your foundation:
Expansive soil
Seasonal temperature changes
Seasonal soil swelling
Shrinking due to weather and watering
Changes to grading due to landscaping
Gradual soil erosion
Occasionally, the addition or removal of plants, shrubs, or trees can also affect your concrete foundation.
We Can Help You With Your Foundation Issues!
No matter how young or old a home is, cracks are common in concrete, and many of them aren't a problem. Concrete can develop smaller hairline cracks as it cures-- and it can continue to cure for many years after the home is built.
Peak Structural of Colorado uses a variety of foundation repair products to address foundation structural issues, including foundation wall anchors, foundation push piers, and foundation helical piers. When an authorized foundation specialist meets with you, they can identify and explain the nature of your problem, suggest a solution, and explain why this solution will lead to lasting results for your home.
If you live in the Colorado area, Peak Structural would like to offer you a no-obligation foundation repair quote. Each estimate includes an on-site inspection, a personal consultation, and written proposal.
For a foundation repair quote, call or e-mail us today!
We serve a wide area, including Littleton, Aurora, Denver, Arvada, Westminster, Englewood, Brighton, Boulder, Broomfield, Golden, Wheat Ridge, Thornton, Commerce City, Windsor, Fort Morgan, Morrison, Evergreen, and many areas nearby. Call or e-mail us today!