Bowing, Buckling Walls in Arvada, Littleton, Aurora, Denver?
We Can Help You Get a Fast, Noninvasive Repair for Your Failing Foundation Walls
Have you noticed bowing or buckling of your foundation walls recently?
You may be facing a serious problem with your foundation-- one that should be addressed right away.
Foundation walls experience bowing and inward movement most often when expansive soils outside of the walls create pressure on the structure.
This pressure pushes outside of the walls, forcing them to show fatigue and signs of failure.
The Good News:
Rebuilding your foundation walls is often not necessary. And with the high cost of excavating a foundation, creating temporary supports, and rebuilding the structure piece by piece, it's definitely not the best choice.
We Have The Solution!
Instead, we recommend that you restore structural strength to your foundation walls with a foundation wall anchor system. Installing a complete system of foundation wall anchors can be accomplished in 1-2 days, and it provides fast, noninvasive, and lasting results. If you'd like a foundation inspection and repair quote, contact Peak Structural of Colorado today!
They serve Arvada, Littleton, Aurora, Denver, Golden, Brighton, Broomfield, Boulder, Englewood, Westminster, Wheat Ridge, Thornton, Commerce City, Windsor, Fort Morgan, Morrison, Evergreen and many areas nearby.
Advantages of Foundation Anchors
Foundation anchors are cost-effective and can usually install in a single day.
Year-round installation is possible
The job can be completed with minimal yard disruption
There's no need to replace the foundation
More information about foundation wall anchors.
Foundation Anchor Installation by Peak Structural, Colorado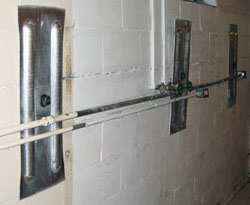 The Supportworks, Inc. Wall Anchor System, provided by Peak Structural, offers a reliable and solid foundation repair system for the state of Colorado.
FSI Wall Anchors include three main components: an interior wall plate, a connecting steel rod, and an exterior earth anchoring system.
Working together, they not only brace and reinforce the foundation wall, they're able to counteract the pressure being pushed against the wall and return the wall to its original, straight position.
To install an Supportworks foundation anchor, a small area of lawn is removed, and the space underneath is excavated.
An anchor is placed inside the hole, and a small hole is created in the foundation wall from the inside.
The steel rod- which has no corkscrew end- is pushed through the earth to where the anchor is placed outside.
The anchor is fixed on the rod, and the earth is returned and packed tight.
The lawn is returned to its original state, and a wall plate is mounted on the steel rod on the inside of the foundation. The wall plate is tightened against the wall, and this tightening is repeated over time. Periodic retightening of the wall plate against foundation wall has the potential to pull the wall back to its original position.
Your system design specialist will be able to help you choose which foundation wall anchor solution is best for your home.
If you live in Colorado and foundation anchors are a solution you're interested in, click here for a foundation wall repair quote!
Otherwise, click here to learn about crawl space repair, or click here to learn about how to level a foundation!